EVENTS & NEWS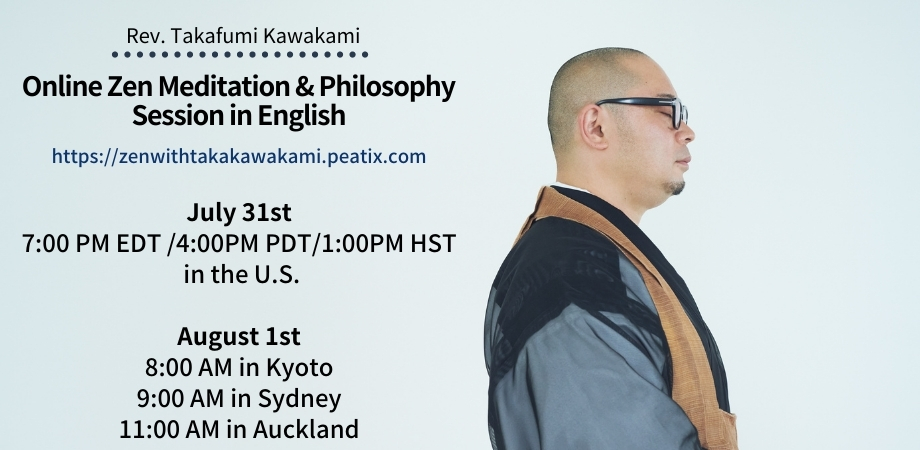 Ask a Zen Priest (July31st/Aug. 1st): Online Zen Meditation and Philosophy Session in English
July 26, 2021
Thank you so much for joining the online session last weekend.
One of the participants suggested to have a discussion on "obstacles and resilience". So, we talked about them.
What are obstacles and resilience we've been hearing since VUCA became a popular term people use in the various resilience and leadership seminars. And, how about Buddhist notion of "obstacles and resilience"? What are the differences?
Setsumon Gensho at Kokutaiji Temple told Nishida Kitaro, "our elbows don't bend opposite way". I think his word perfectly explain about "obstacles and resilience" in Zen tradition.
Anyway, we are looking forward to have more discussions and practices with you.
Next session is in this weekend.
https://zenjuly31aug1.peatix.com/
July 31st at 1:00 PM HST (Honolulu)
July 31st at 4:00 PM PDT (San Francisco)
July 31st at 7:00 PM EDT (New York)
August 1st at 7:00 AM SGT (Singapore)
August 1st at 8:00 AM JST (Kyoto)
August 1st at 9:00 AM AEDT (Sydney)
August 1st at 11:00 AM NZDT (Auckland)
Once again, I would like you to send me the topic you would like to discuss this weekend. A few times a year, I would like to know what you are looking forward to learn in my sessions.
So, please write down what you would like to discuss this weekend on the comment sections.
Looking forward to seeing you this weekend.
*Due to the Buddhist holiday schedule, there will be no session on Aug. 7/8th and 14th/15th. I will post the schedule after the Obon Buddhist holidays as soon as possible.
EVENTS & NEWS TOP