EVENTS & NEWS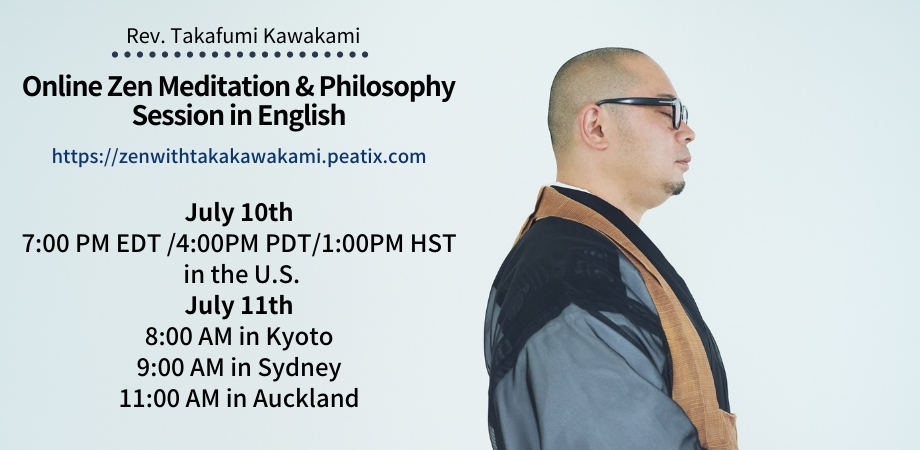 July 10th/11th: Online Zen Meditation and Philosophy Session in English
July 2, 2021
Please join our online Zen meditation and philosophy session in English with Rev. Takafumi Zenryu Kawakami (75 min.)
https://zenjuly1011.peatix.com/
Small group and more direct conversations with participants. Our topic is different each time. It depends on the current situations and participants' condition and questions.
July 10th at 1:00 PM HST (Honolulu)
July 10th at 4:00 PM PDT (San Francisco)
July 10th at 7:00 PM EDT (New York)
July 11th at 7:00 AM SGT (Singapore)
July 11th at 8:00 AM JST (Kyoto)
July 11th at 9:00 AM AEDT (Sydney)
July 11th at 11:00 AM NZDT (Auckland)
We start with the opening.
After the opening discussion, Rev. Takafumi Kawakami will lead guided and silent meditation practices (25 min.)
We will have Q&A and discussion.
Then, he will guide you to a Nanso (body-scan and self-compassion) meditation (10 min.).
At the end, we will have Q& A to wrap up our session.
While you are meditation, I will livestream the view of Shunkoin Temple's garden.
*If you are a doctor/medical worker saving lives from COVID-19, please contact me directly. So you can join the session for free.
EVENTS & NEWS TOP