EVENTS & NEWS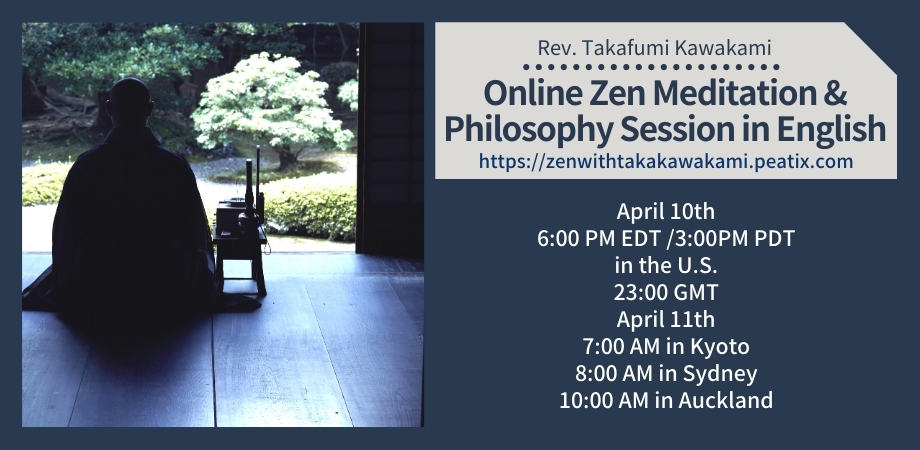 Art of Zen: Online Zen meditation and philosophy session in English
April 9, 2021
Our next online Zen meditation and philosophy session in English, "the Art of Zen (https://zenapril10and11th.peatix.com/) " will be offered on
April 10th at 3:00 PM PDT (San Francisco)
April 10th at 6:00 PM EDT (New York)
April 10th at 23:00 / 11:00PM GMT (London)
April 11th at 0:00 / 0:00AM CET (Berlin)
April 11th at 6:00 AM SGT (Singapore)
April 11th at 7:00 AM JST (Kyoto)
April 11th at 8:00 AM AEDT (Sydney)
April 11th at 10:00 AM NZDT (Auckland)
Yesterday was the International Buddhist Day (April 8th). It was Gautama Buddha's birthday. But I think the International Buddhist Day should be celebrated on the Boddhi Day (Dec. 8th). Buddhi Day is the day Gautama Siddhattha became a buddha.
These days, in Christianity, Christmas is more focused. But Easter was/is still the most significant holiday. A series of the celebrations around Easter is commemorating the significant events, which made Christianity a powerful region as we see today.
We should think about what made Buddhism the "Buddhism".
Anyway, I am looking forward to seeing you all at the online session.
EVENTS & NEWS TOP